Unfazed by Yankees, Elias K's 10 in win
Mariners rookie allows one earned run; Cano drives in two runs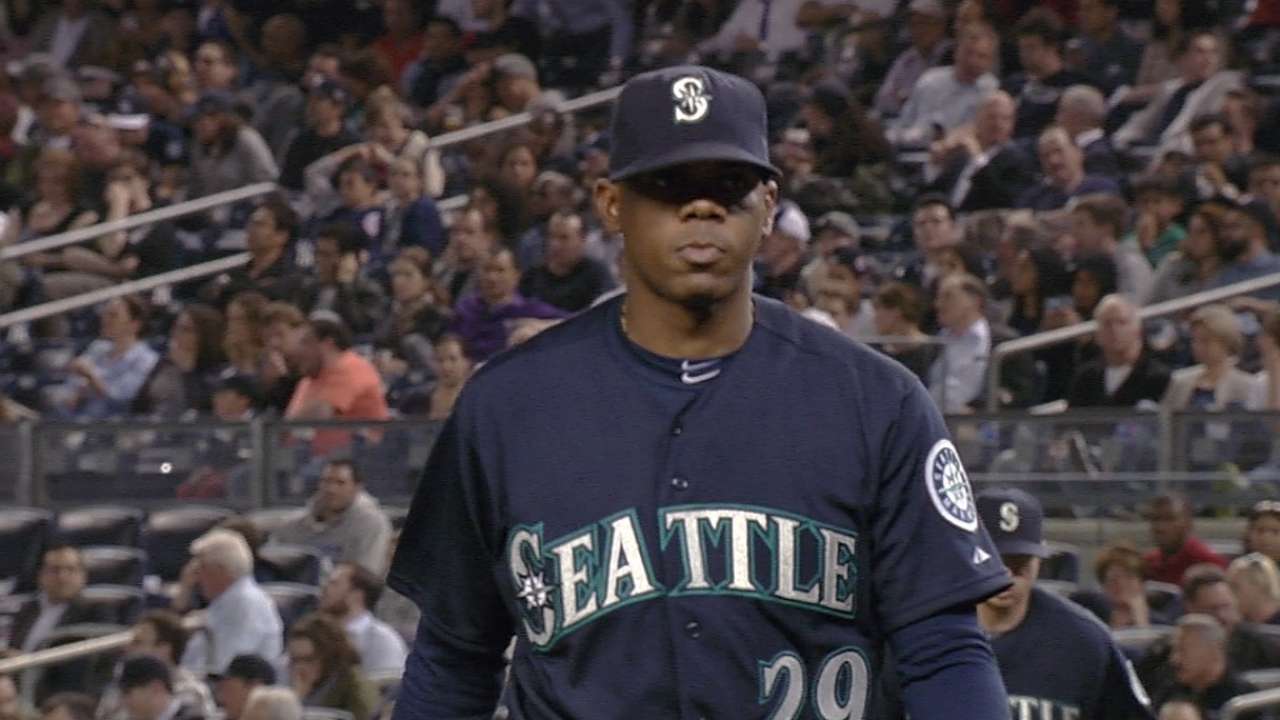 NEW YORK -- Roenis Elias had never pitched in Yankee Stadium. Never faced any member of the current Yankees. Never stepped onto the big stage in the Big Apple.
But the Mariners rookie didn't seem fazed by any of that Thursday night as the 25-year-old Cuban held the Yankees to two runs (one earned) over seven sterling innings of work as Seattle swept a rain-shortened series in the Bronx with a 4-2 victory.
Intimidated at all by the aura of Yankee Stadium?
"Nothing," Elias said through an interpreter. "Nothing at all. It's just baseball."
But when pressed, the youngster who was pitching Double-A ball for the Jackson Generals last year acknowledged it did mean a little something special to not just pitch in front of 43,121 at Yankee Stadium, but to beat the team he grew up watching in Guantanamo, Cuba.
"That's where the adrenaline comes from. That's when I feel good," he said of being in the spotlight. "I've never been to this stadium. It was good to beat the Yankees. I'd seen them on TV, but I'd never been here. It's not only the stadium, but the team."
Seattle has won five of its last six since snapping an eight-game losing streak to improve to 12-14, while the Yankees fell to 15-12. The Mariners have won four in a row at Yankee Stadium dating back to last season, their longest winning streak in the Bronx since taking six straight from 2001-03.
After surrendering a leadoff home run to Jacoby Ellsbury, Elias settled in and allowed just six hits with two walks and a career-best 10 strikeouts in a 110-pitch night.
"The young man threw a tremendous game, that's for sure," said Mariners manager Lloyd McClendon, who opted to stay with Elias after Wednesday's rainout rather than go with Felix Hernandez for the series finale. "We thought he'd be OK in this atmosphere. This is a tough venue. But we thought he'd be OK. The fact we had an opportunity to get Felix an extra day weighed heavily in my decision.
"Coming into Yankee Stadium or getting off a boat, I think he's pretty tough," McClendon said of the Cuban defector. "And my hunch was right. I didn't think Yankee Stadium would bother him that much."
"Best I've seen him," said catcher Mike Zunino. "He's a guy that definitely feeds off a lot of energy, and what better place to do it? The last two to three starts he's been feeling really confident with the breaking ball along with the changeup, so with him being able to go along and do that today just shows how good he is."
The young southpaw was making just his sixth Major League start since making the jump from Double-A ball this spring. He improved to 2-2 with a 3.09 ERA and impressed the Yankees in the process.
"He's not a typical lefty where he's up there trying to trick you," said Derek Jeter, who struck out twice against Elias in a 1-for-4 night. "He gets it up there pretty good, and when he gets ahead, he's got a strikeout pitch. He was better than us today."
Elias' strong outing took some of the spotlight away from teammate Robinson Cano, who went 1-for-4 with a double and two RBIs in his second game back in the Bronx with his new club.
Cano was met with boos again as he stepped to the plate in the first inning, and the jeers had barely died down when he drove an RBI double into right field, scoring Stefen Romero from first base for a quick 1-0 lead.
The Yankees wasted no time tying things back up with a leadoff home run to right by Ellsbury, his first homer since becoming one of New York's own free-agent additions over the offseason.
"Wow," said Elias. "I was shocked that the first batter, Ellsbury, was able to come around on me."
Elias didn't let that Bronx greeting get to him, however, as he proceeded to strike out Jeter, Carlos Beltran and Alfonso Soriano in order to set the tone for the rest of his night.
Cano also drove in Seattle's second run with a fielder's choice in the third, giving the Mariners a 2-1 lead. Cano extended his hitting streak to nine games and is now batting .294 with 14 RBIs in his first 26 games for Seattle.
The Mariners added two more in the fourth off Hiroki Kuroda, with Brad Miller pushing an RBI single to left and Michael Saunders following with a run-scoring double to left-center. Saunders' shot easily would have scored two, but it took a big hop off the warning track and over the fence for a ground-rule double that forced Miller to hold at third.
Saunders, leading off and playing center field in place of the struggling Abraham Almonte, went 3-for-4 with a double and an RBI.
"Unlucky placement," Saunders said of his ground-rule double. "But it felt good tonight. I learned from my first at-bat I needed to get [Kuroda's] stuff up. His splitter is his out pitch, and the first time through the order I feel like we all learned to get that ball up. After that, we put some pretty good swings on it, especially after seeing some pitches."
Saunders appears to have earned another start again Friday when the club heads to Houston.
"True to my word, players make out the lineup, managers don't," McClendon said. "You get three hits, you find your way into the lineup the next day."
Greg Johns is a reporter for MLB.com. Follow him on Twitter @GregJohnsMLB as well as his Mariners Musings blog. This story was not subject to the approval of Major League Baseball or its clubs.