MLB.com Columnista
Jonathan Mayo
Pitchers stand out on first day of Tournament of Stars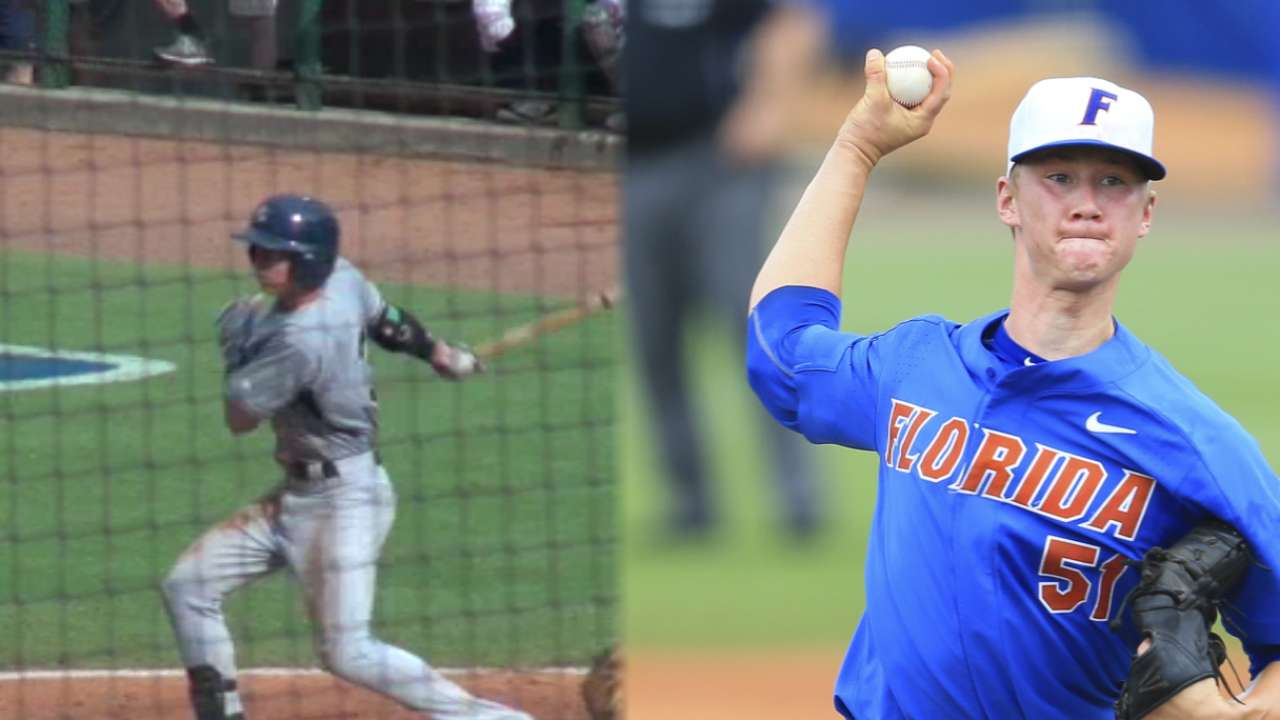 CARY, N.C. -- If the first day of the Tournament of Stars was any indication, both the international competition the US Baseball 18 and under national team will face this fall, and scouts evaluating the 2018 Draft class will see plenty of quality pitching.
Big arms were on display in both games on Day 1 of the tournament that helps USA Baseball determine who will play in September's WBSC U-18 World Cup in Canada. It started with a matchup of lefties Ryan Weathers (Loretto HS, Tenn.) and Matthew Liberatore (Mountain Ridge HS, Peoria, Ariz.). Weathers, the son of former big leaguer David Weathers put up four scoreless innings for the Brave team, allowing three hits while striking out three. He was 92-95 mph with his fastball, particularly early in his outing and comes at hitters with a good amount of deception due to a shorter arm action. While he doesn't appear overly athletic, he did come off the mound well to field a bunt.
On the other side for the Pride, Liberatore did give up a run on three hits, but struck out six over four innings. While he didn't show as much power as he has in the past, he was consistently 90-92 mph and threw some quality breaking balls. Neither southpaw walked a batter.
The strong starting pitching continued in Game 2 with right-hander Kumar Rocker (North Oconee HS, Watkinsville, Ga.) going toe-to-toe with lefty Carter Lohman (Hamilton Southeastern HS, Fishers, Ind.). Both went four scoreless. Lohman allowed three hits and walked none while striking out five for the Free team with a fastball that topped out at around 90-91 mph. But he has a clean delivery and good feel for pitching.
Rocker was more overpowering for the United, not allowing a hit in his four frames and striking out five, though he did walk two. He sat in the 92-95 mph range, though he did reach back for a 97-98 fastball on occasion. Reports on Rocker's breaking ball had been iffy in the past, but he showed a very effective slider, thrown around 83-84 mph.
The starters weren't the only standouts on the mound. Adam Kloffenstein was 90-93 mph with his fastball in back of Liberatore and gave up just one hit in four scoreless innings of his own, striking out three.
In the second game, right-hander John Ginn (Brandon HS, Miss.) may have provided the surprise of the first day of action. Not as big of a name heading into the summer, there was some effort to the delivery, but he also touched 97 mph with his fastball and hit 95 mph frequently in his two innings of work. He complemented the plus heater with a solid slider, which was thrown 83-85 mph. He did allow an unearned run, not getting help from his defense, on just one hit and one walk, striking out four.
Some hitters stood out
While the arms did seem ahead of the bats on Tuesday, there were some hitters who certainly held their own. Brice Turang (Santiago HS, Corona, Calif.), who many feel is the best player in the 2018 Draft class, showed an advanced approach at the plate, drawing two walks then lacing a single the other way against Ginn. He and Bobby Witt Jr. (Colleyville Heritage HS, Tex.), the son of the former big leaguer, also showed plus range at shortstop and second. The pair will take turns on both sides of second base in what most expect will be Team USA's middle infield.
Outfielder Mike Siani (William Penn Charter, Glenside, Pa.) had a pair of hits, but stood out more in Game 2 with his plus speed, which enabled him to steal three bases.
In the opener, center fielder Alek Thomas (Chicago Mount Carmel HS) had two hits, including a double to start the game, off of Weathers. Anthony McNair-Seigler (Cartersville HS, Ga.) also had a pair of hits. Will Banfield V (Brookwood HS, Lawrenceville, Ga.) doubled and drew a walk, while also getting rave reviews for his work behind the plate.
Trackman leaders
Trackman is on hand for all Tournament of Stars games at the National Training Complex, and it's always fun to look at the leaderboard. Yes, all players have played just one game, but here's what the Trackman leaderboard looks like:
Maximum fastball velocity: John Ginn, 97.0 mph; Kumar Rocker, 95.8 mph; Ryan Weathers, 94.8 mph
Maximum fastball spin rate: Joseph Menefee, LHP (Georgia Rach HS, Richmond, Tex.), 2582; Weathers, 2534; Lyon Richardson, RHP (Jensen Beach HS, Fla.), 2505
Maximum breaking ball spin rate: Menefee, 2654; Weathers, 2647; Liberatore, 2644
Top exit speeds: Elijah Cabell, OF (Winter Park, Fla.), 108.2 mph; Jonathan Gates, (Nature Coast Technical HS, Brooksville, Fla.), 104.1 mph; Connor Scott, (H.B. Plant HS, Tampa, Fla.), 103.4
Pitching preview
The following pitchers are slated to pitch on Wednesday:
Game 3, 10 a.m. ET
United
Landon Marceaux, RHP, Destrehan (La.) HS
Carter Stewart, RHP, Eau Gallie HS (Melbourne, Fla.)
Josiah Sightler, LHP, Swansea HS (Gaston, SC)
Brave
Ethan Hankins, RHP, Forsyth Central HS (Cumming, Ga.)
Justin Wrobleski, LHP, Sequoya HS (Canton, Ga.)
Davis Sharpe, RHP, Mill Creek HS (Dacula, Ga.)
Game 4, 1:30 p.m. ET
Pride
Austin Becker, RHP, Big Walnut HS (Sunbury, Ohio)
Caden Monke, LHP, Mount Olive (Ill.) Community HS
Brandon Dieter, RHP, South Hills HS (Covina, Calif.)
Free
Mason Englert, RHP, Forney (Texas) HS
Slade Cecconi, RHP, Trinity Prep (Oviedo, Fla.)
Lineras Torres, RHP, Beacon (NY)
Jonathan Mayo is a reporter for MLBPipeline.com. Follow him on Twitter @JonathanMayo and Facebook, and listen to him on the weekly Pipeline Podcast. This story was not subject to the approval of Major League Baseball or its clubs.