MLB.com Columnista
Jim Callis
Draft signing updates following deadline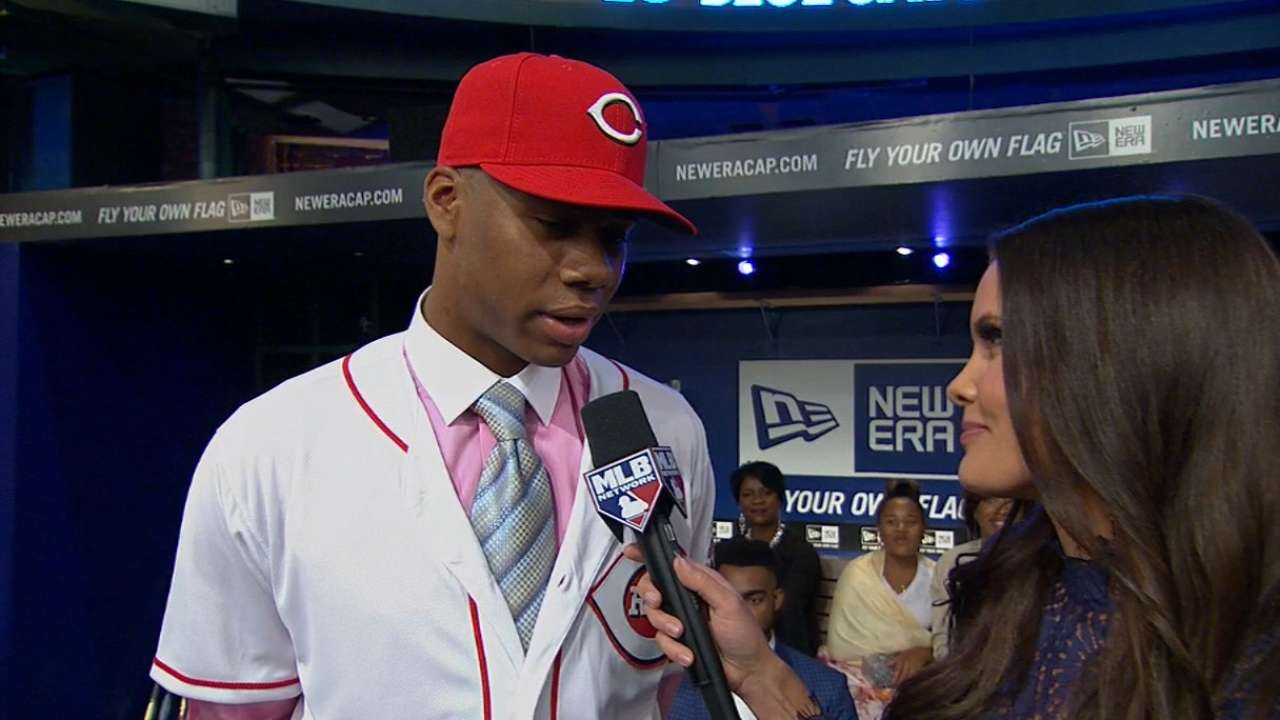 With the Draft signing deadline in the rearview mirror, all first-round choices have agreed to terms.
At No. 2 overall, Hunter Greene signed with the Reds just before the 5 p.m. ET deadline. The Reds gave the Notre Dame High (Sherman Oaks, Calif.) right-hander/shortstop the highest Draft bonus since bonus-pool restrictions were instituted in 2012, surpassing the $7,005,000 the Rays paid No. 4 overall selection Brendan McKay on June 27. Greene's slot comes with an assigned value of $7,193,200 and Cincinnati has saved enough pool money to pay him $7,235,600 without incurring any penalties. The Reds signed him for $7,230,000.
A club that outspends its pool by 0-5 percent pays a 75-percent tax on the overage. At higher thresholds, teams forfeit future selections: a first-rounder and a 75 percent tax for exceeding their pool by more than 5 and up to 10 percent; a first- and a second-rounder plus a 100 percent tax for more than 10 and up to 15 percent; and two first-rounders and a 100 percent tax for more than 15 percent. The MLB Draft Tracker lists all signings and bonuses.
Oregon State right-hander Drew Rasmussen, selected 31st overall in Competitive Balance Round A, won't sign with the Rays. MLBPipeline.com reported Thursday that Tampa Bay won't make an offer to Rasmussen, who had Tommy John surgery in March 2016, but returned to hit 98 mph this spring and help the Beavers to a third-place finish at the College World Series.
The Rays will lose his $2,134,900 pick value from their pool, and whether they'll get a compensation choice at No. 32 in the 2018 Draft or Rasmussen will be granted free agency is subject to an interpretation of the Draft rules. The team said in a statement that it expects to receive the compensatory selection.
It also looks doubtful that fourth-rounder Jack Conlon will sign with the Orioles. A fourth-rounder from Clements High (Sugar Land, Texas), he displays a 92-95 mph fastball and a sharp 81-84 mph slider when he's at his best. If he doesn't turn pro, he'll attend Texas A&M.
In 2016, a record-low two players (Pirates Lottery Round A pick Nick Lodolo, Astros seventh-rounder Tyler Buffett) in the top 10 rounds turned down pro ball. This year's total may not be much higher.
The complete list of unsigned picks from the first 10 rounds:

Competitive Balance Round A
31. Rays: Drew Rasmussen, RHP, Oregon State
Fourth round
128. Orioles: Jack Conlon, RHP, Clements HS (Sugar Land, Texas)
Fifth round
145. Angels: Jo Jo Booker, RHP, Miller HS (Brewton, Ala.)
Jim Callis is a reporter for MLB.com. Follow @jimcallisMLB on Twitter. Listen to him on the weekly Pipeline Podcast. This story was not subject to the approval of Major League Baseball or its clubs.